Responsive Furnace Repair in Hatch
At Aircon Heating & Cooling Inc., we can handle the details of any furnace repair in Hatch, NM! Winter temperatures in Dona Ana County can get cold and create a dangerous situation if you don't have a reliable heater. Regardless of the type of issue your system is having, our team can get it repaired! Our family-owned and -operated Hatch company is dedicated to the complete satisfaction of each of our customers. Every heating repair we perform in Hatch receives our undivided attention. We use quality parts and professional tools to ensure results that we can stand behind.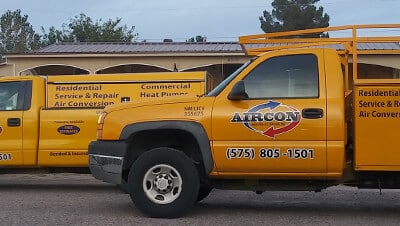 Why choose us for furnace repairs?
Family owned and operated
BBB A+ rating
HomeAdvisor Screened and Approved
Skilled, certified technicians
Our company is dedicated to excellence and is top-rated by HomeAdvisor. Our goal is to get your heating system running like new!
Comprehensive Heating Repair in Hatch
Does your furnace need repairs? It's a tricky issue that many homeowners fear. If your furnace is showing any signs that something isn't quite right, your best bet is to call sooner rather than later! A strange noise, for example, might be a sign that a belt or component is loose. Running your furnace with something wrong can result in more extensive (and costly) damage, as well as potential downtime when you need heating the most. Give us call right away and let us help you out! Our skilled technicians will get to the bottom of the problem fast, and offer friendly and experienced advice with your best interests in mind.
A furnace that needs repairs might:
Not keep the pilot light lit
Cycle on and off more than usual
Produce unusual smells and noises
Cause an unexpected increase in your energy bills
When we've finished repairing your heater, we'll remove all waste from your property. Our workspace will be left as clean as we found it. All of the small details will be handled in a highly professional manner. We refuse to cut corners with anything we do!
Schedule a Hatch Furnace Repair
Aircon Heating & Cooling Inc. has been offering heating repair services in the Hatch area for years. Our customers are important to us, and we go the extra mile in order to meet their individual needs. To be upfront with our pricing, we give our customers accurate and detailed cost estimates for the repair. Our rates are kept reasonable to ensure our services are accessible. We want our customers to have complete confidence in their heating system after we're done with it. You can rely on us to always have your best interests in mind.
To find out more about how we could serve your unique needs in Hatch, give Aircon Heating & Cooling Inc. a call today! With our skills, knowledge, and experience, we also offer furnace installation and maintenance. Air conditioning repair services are provided as well!